Tadcaster Grammar School now has a well established 'Chromebooks for Learning' scheme, an exciting project destined to take our students' learning experience to a new level.
All students are required to have access to a chromebook throughout the school day. Our students' daily lives are filled with technology and they are quick to embrace new developments. We want them to feel at ease in this rapidly changing climate, and we hope that parents will engage and support us in this forward looking initiative.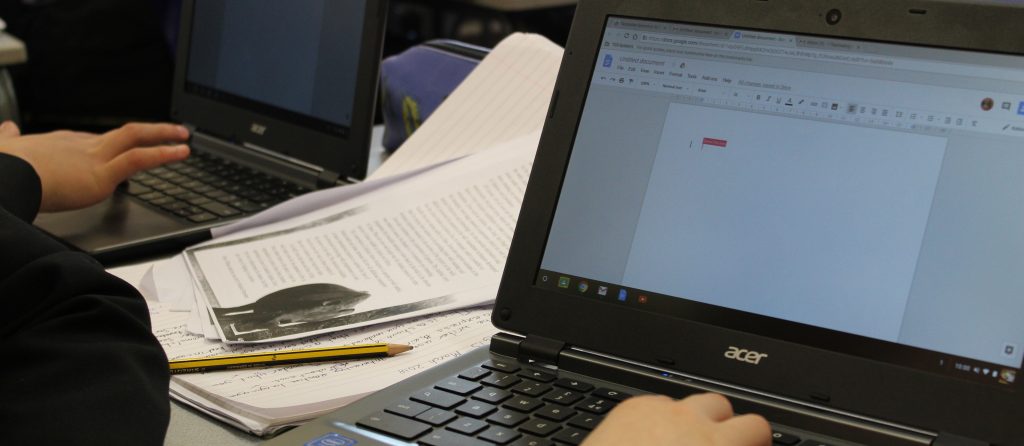 We believe using Chromebooks enables our students to become well-informed, responsible digital citizens and lifelong learners. With students having access to their own devices, we firmly believe the scheme brings enormous educational benefits.
In order to facilitate this, the school has made a partnership with an educational ICT supplier, who can offer a device which is suited to use in a school environment. They also arrange for an extended warranty and a free repair service for any accidental damage.
We must stress, however, that the scheme is voluntary. Students who do not take part in the scheme, and therefore do not have their own device, will be able to borrow a chromebook when required (subject to availability), but will need to collect and return it to our ICT support team before and after use – chargers are not supplied with loan chromebooks as we ask that these are charged in the school charging trolleys. A refundable deposit may also be required for this loan device. It is also possible, if students already have a chromebook of their own, to simply purchase a Google Education licence through the school, which will allow it to be monitored and managed by our school ICT administration systems.
Ideally, our preference would be to purchase Chromebooks for all students from school funds. Sadly, due to increasing financial pressures, this is simply not possible.
Warranty and Repair Service
If there are problems with your chromebook in the future, it will be necessary to claim under the warranty. To do so, please bring the chromebook to the IT support office where we will organise to have the device picked up by the manufacturer, and a temporary device issued to the student. There is also a FREE repair service provided for your device, so that if there is any accidental damage caused during the term of the agreement, repairs will be free.
Why has the School opted for Chromebooks?
Students need to be prepared for an increasingly digital world. Research has confirmed that good home access to technology has a positive impact on a child's educational achievements; it often motivates them to do school work by providing more interesting and engaging ways to learn. The use of chromebooks will not replace, but supplement our existing learning strategies. Importantly chromebooks give students seamless access to Google Workspace for Education, which are being used increasingly across the school to enhance the learning experience
Some of a Chromebook's features
A multipurpose device with spill resistant Keyboard and Trackpad
Splash proof design to protect against accidents
Booting within 8 secs allowing learning to start straight away
90cm drop tested to help prevent against accidents
Rugged and foldable design
Lockable keyboard prevents against mistyping
Long battery life
Large numbers of computers can be managed centrally
Excellent collaboration tools
Works seamlessly with Google Workspace for Education and other cloud-based applications which all of our students and teachers already use extensively
The following are just a few examples of what students will do:
Create, share and collaborate
Use subject related apps in the classroom and at home
Collaborative learning
Traditional methods of learning and teaching still have an important place in education and will continue in our school. Chromebooks should be seen as an educational tool, not as a replacement for these methods.
There are obvious concerns about young people spending too much time in front of a screen, whether it be a smart phone, tablet or computer. We are not proposing that our students' lessons will become entirely ICT based however, and use of the chromebooks will be an additional opportunity, rather than a replacement for the excellent teaching strategies already evident here at school. We know too that many parents have sound arguments for restricting access to social media sites, computer gaming and excessive internet browsing, but if educational ICT access is sacrificed in order to cut down 'screen time', then we are not setting the boundaries in the right place.
Chromebook Scheme 2023

Chromebook – Year 7 second order opportunity

Chromebook – Year 8 and above order opportunity
(Use this link even if your child is not in Year 7)
Login details: – Username: Tadcaster23 – Password: S3cure02!
---

Only complete this form if you are providing your own device, and NOT purchasing your Chromebook via the Freedomtech Scheme.
For those who do not wish to participate in the School scheme please make sure your Chromebook meets the following specification:
Chromebook 11 (11 inch screen)
4gb ram
Boot within 8 secs
Camera
Microphone
Minimum 5400mAh battery – to enable upto10 hours use
Case Studies

Tring School 1 to 1 implementation (parliamentary review)

Churston Ferrers Grammar School Case Study
FAQ's
Answers to some of the commonly asked questions can be read here >>
---