Students from Year 9 and Year 10 were treated to a sports journalism workshop, led by leading sports writer on the Times and Author Rick Broadbent. Rick was originally invited to come and speak as an enrichment opportunity to inspire students who were interested in either sports or journalism (or both) and to give them a taste of what skills they would need to be a sports journalist. He offered to do a workshop on elements such as report writing, commentary, interview skills and the chance to ask questions about his career.
Rick, a former student at Tadcaster left in 1986 and went on to study English at University. He has been a sports journalist on The Times for 15 years and has covered events including the Olympic Games, the World Cup, Six Nations rugby, Formula One and Wimbledon. He has interviewed hundreds of stars from Usain Bolt to David Beckham and Lewis Hamilton to Jonny Wilkinson.

Rick has also written lots of books. After the 2012 Olympics he worked with Jessica Ennis-Hill on her Sunday Times best-selling autobiography 'Unbelievable' and has been a winner at the British Sports Book awards. He has twice been shortlisted for the prestigious William Hill prize and has been nominated as sports feature writer of the year by the Sports Journalists Association. Topics of books range from football and boxing to the escapades of a maverick zookeeper who rides a Harley Davidson and rescues orangutans and chimpanzees!
Rick is also a parent himself and passionate about getting children reading and writing.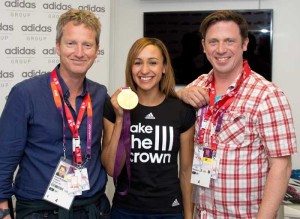 Having travelled the world and seen how sport can be used as a tool for social change, he realised many children struggle to engage with literacy. Combing his twin loves of words and sport, he thought sports writing could be the carrot to tempt them into learning. Ricks goal is to make writing fun. "I know that some children struggle with literacy, and even actively loathe it, so I use sport to tempt them in and light their passion" he said.
The morning began with an initial look at Rick's career. He explained how he has been to over 40 countries, and met many, famous athletes. He explained the process of writing a story on a sporting event, such as a football match. It included detailing how there are very tight deadlines that have to be met, and that often, to save time, he will write about both possible outcomes of an event prior, so that he can use one after the event and go into more detail. "You have to think on your feet sometimes," he added.
The workshop began with an introduction to sports journalism along with a fun journalism quiz. After giving the students information on how to write a story, he set them the task of writing their own. The topic of the story given to the students was the recent success of Dina Asher-Smith at the World Championships in Doha. They had to write about the moment she won Gold in the 200m race, imagining they were the one interviewing her after the race. The students engaged well in the activity, coming up with some creative and thoughtful responses which impressed the experienced journalist.
The students had an amazing morning and got a lot of positives out of the experience, which they can now take with them, to help them as they prepare for their GCSEs.
The workshop was wrapped up with a Q & A about travelling around the world and working as a sports journalist.
Rick was asked to come into school to help broaden the horizon of Year 9 and Year 10 students to help with their English Language studies. Two year 12 students helped organise the morning. Jack and Elliott both very keen writers and hoping to perhaps follow in the footsteps of Rick one day. Jack went on to say "Rick's presentation was very informative and it helped me to understand the profession better. I spoke to Rick afterwards explaining how I was interested in writing and he said that journalism can help with that".