Welfare Leader Sam Walker a Year 12 student launched Kooth during a week of assemblies to all Year groups within the school. Kooth is a free, safe, anonymous and non-stigmatised way for young people to receive counselling, advice and support on-line.
As Welfare Leader Sam wanted to bring awareness, not only to mental health issues but anything at all that was troubling young people. He wanted to find somewhere that students could feel safe, and talk anonymously to someone other than staff members in school. Sam felt that the best way to promote Kooth was through speaking directly to students through their house assemblies.
Kooth has an anonymous messaging and Live Chat 1.1 support service. The live chat service is run by qualified councillors. Over 95% of users felt this service was extremely useful and helpful. Kooth is available until 10pm 365 days per year. If you just need someone to understand, or need advice to help a friend, it is good to know there is someone there. Kooth is an emotional well-being platform, accessible through mobile, tablet and desktop and free at the point of use.
We all need support sometime so it's good to know Kooth is always there. Students can pick up a card from any of the House Leaders Offices with all the details needed to access this fantastic service.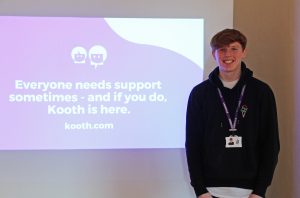 kooth.com